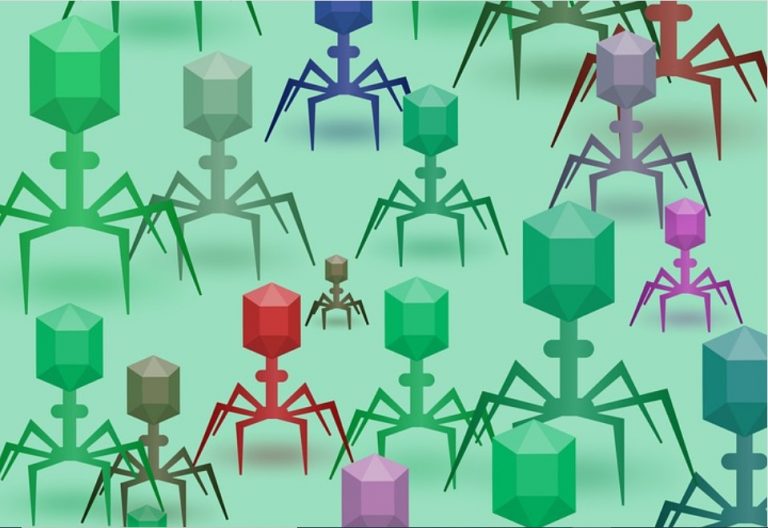 "Phage" therapies offer potential strategy to combat antibacterial resistance.
Article published on the National Institute of Health website on March 11, 2021 (in the News releases section ).
The National Institute of Allergy and Infectious Diseases (NIAID), part of the National Institutes of Health, has awarded $2.5 million in grants to 12 institutes around the world to support research on bacteriophage therapy. These awards represent NIAID's first series of grants focused exclusively on research on this therapy, an emerging field that could yield new ways to fight antimicrobial-resistant bacteria. A 2019 report from CDC found that antibiotic-resistant pathogens cause more than 2.8 million infections in the U.S. each year and more than 35,000 people die.
Bacteriophages (or "phages") are viruses that can kill or incapacitate specific kinds of bacteria while leaving other bacteria and human cells unharmed. By gathering naturally-occurring phages, or by modifying or engineering phages to display certain properties, researchers hope to create novel anti-bacterial therapeutics. Because phages eliminate bacteria by infecting them, rather by generating compounds like antibiotics which kill bacteria, phages can be used to treat antibiotic-resistant infections. In addition, some evidence suggests that combination therapy containing both phages and antibiotics could prevent bacteria from becoming drug resistant.
Although scientists have been aware of phages and their ability to kill bacteria since 1917, the first U.S.-based clinical trials of phage therapy have only recently begun. Individual U.S. patients have received phage therapy, but only under emergency investigational new drug protocols. In eastern Europe, where the use of phage therapy is more prevalent, its efficacy has not been rigorously demonstrated.
"In recent decades, multidrug-resistant bacteria, particularly those that cause potentially deadly diseases like tuberculosis, have become a serious and growing global public health concern," said NIAID Director Anthony S. Fauci, M.D. "With these awards, NIAID is supporting research needed to determine if phage therapy might be used in combination with antibiotics—or replace them altogether—in treating evolving antibiotic-resistant bacterial diseases."
The new NIAID grants support research to address key knowledge gaps in the development of phages as preventative and therapeutic tools for bacterial infections. Basic research supported by these grants will include a study characterizing different types of phages; a project studying how phages combat sticky, sheet-like colonies of microorganisms called biofilms, which can be difficult to treat with antibiotics; and research to determine how to identify new, potentially useful phages. Some translational research supported by these grants will study how to exploit the interaction between phages and bacteria to create lasting, re-usable therapeutics; and engineering viruses to combat Staphylococcus bacteria.
The recipients of the awards are as follows:
University of Pittsburgh
Principal Investigator: Graham F. Hatfull, Ph.D.
Phage resistance in Mycobacterium tuberculosis
PhagePro, Inc. (Boston)
Principal Investigators: Minmin Yen, Ph.D., MPH, and Andrew Camilli, Ph.D.
Targeting antibiotic resistance genes in Vibrio cholerae using a phage-encoded CRISPR-Cas system to improve efficacy of phage prophylaxis
University of Connecticut (Storrs)
Principal Investigator: Simon White, Ph.D.
Characterization of long-circulating phages isolated from in vivo mouse studies
Georgia Institute of Technology (Atlanta)
Principal Investigator: Samuel Paul Brown, Ph.D.
Building re-usable phage and antibiotic treatments via exploitation of bacteria-phage co-evolutionary dynamics
University of Wisconsin-Madison
Principal Investigator: Srivatsan Raman, Ph.D.
Understanding molecular rules governing bacteriophage specificity and virulence by high-throughput mutational and metagenomic scanning
Texas A&M Agrilife Research (College Station)
Principal Investigators: Lanying Zeng, Ph.D., Junjie Zhang, Ph.D.
Reducing virulence through the suppression of retractile pili
Queens College, City University of New York
Principal Investigator: John Joseph Dennehy, Ph.D.
Novel strategies for treating biofilm-forming pathogens with phage therapy
Harvard School of Public Health (Boston)
Principal Investigator: Eric J. Rubin, M.D., Ph.D.
Using genetics and multi-scale imaging to understand the mechanisms underlying mycobacteriophage host choice
Guild Associates, Inc. (Dublin, Ohio)
Principal Investigator: Ian Fleming, Ph.D.
Optimized methods for isolation and characterization of bacteriophage by VT-FACS
Geneva Foundation (Tacoma, Washington)
Principal Investigator: Yoann Stephane Le Breton, Ph.D.
A platform for genome mining of multidrug-resistant pathogens to develop therapeutic phages using synthetic biology
University of Alabama at Birmingham
Principal Investigator: Terje Dokland, Ph.D., and Asma Hatoum, Ph.D.
Engineering picoviruses with defined host range to combat drug-resistant staphylococci
Albert Einstein College of Medicine (New York)
Principal Investigator: William Robert Jacobs Jr., Ph.D.
TB phage therapy: Optimizing delivery methods of mycobacteriophages to target intracellular Mycobacterium tuberculosis
NIAID conducts and supports research—at NIH, throughout the United States, and worldwide—to study the causes of infectious and immune-mediated diseases, and to develop better means of preventing, diagnosing and treating these illnesses. News releases, fact sheets and other NIAID-related materials are available on the NIAID website.
About the National Institutes of Health (NIH): NIH, the nation's medical research agency, includes 27 Institutes and Centers and is a component of the U.S. Department of Health and Human Services. NIH is the primary federal agency conducting and supporting basic, clinical, and translational medical research, and is investigating the causes, treatments, and cures for both common and rare diseases. For more information about NIH and its programs, visit www.nih.gov.