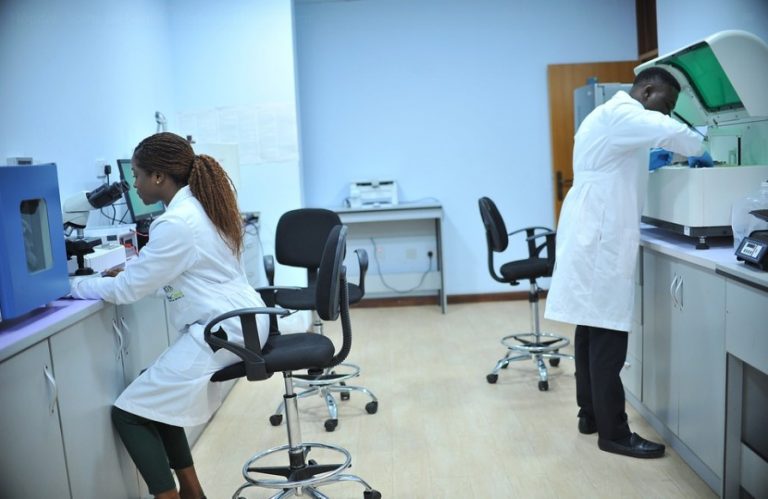 Article published on The Telegraph on February 04, 2022
Scientists have created a compact, transportable mini-lab to help tackle antimicrobial resistance in remote regions
Mini-labs tracking the spread of superbugs in remote regions could transform treatment and detection of antimicrobial resistance (AMR) in the world's "blind spots", scientists say.
AMR is an escalating health emergency across the globe, with landmark estimates last month warning that at least 1.27 million people died due to resistant infections in 2019 alone. 
Although the highest burden is in sub Saharan Africa and South Asia, patchy surveillance across these regions has made it tricky to assess the true scale of the health crisis.
But now, scientists at Médecins Sans Frontières (MSF) have created a "compact, transportable, affordable" mini-lab to help medics diagnose and treat resistant bacterial infections – such as sepsis, urinary tract infections and tuberculosis. 
Dr Jean-Baptiste Ronat, an MSF microbiologist who has led the mini-lab project, said his team has effectively squeezed a hi-tech laboratory into six containers. This takes two days to set up and needs a space no larger than 20 square metres. The NGO offers two to three months of onsite training so local lab technicians can run and maintain the kit.
"What we have developed is not a low-level laboratory," Dr Ronat told The Telegraph. "It is the same quality as you would find in high income countries, but adapted to the local context."
He added that a full, transportable lab where every component has been adjusted to suit a lower income setting has never been produced before, and it was an "intense" feat to condense a complex microbiology lab into half a dozen transportable crates.
While the lab is expensive – current models cost in the ballpark of £40,000 – this is a fraction of the price of a full microbiology lab, which can be well over £200,000. MSF added that it is confident the cost will "decrease further when in full production".
Central African Republic gets a mini-lab
The mini-lab project was first launched in 2016, and an initial nine month trial completed in Haiti in April 2020. Now, a second generation prototype has been set up in Carnot – a small city in the Central African Republic (CAR), some 300 miles west from the capital Bangui. 
Like many lower income countries the CAR, which is home to roughly five million people, has an "enormous" lack of capacity to track AMR, with just a couple of laboratories in the capital.
Experts are therefore "flying blind" about the scale of AMR in areas outside Bangui, Dr Ronat said, with doctors unable to identify superbug outbreaks or provide those with resistant infections with the most suitable antibiotics.
"And so that's why this will make such a difference. We do not know the exact extent of AMR outside urban centres in many low and middle income countries; huge areas are just blind spots," Dr Ronat said. "This will also help clinicians to adapt the treatment based on the infection they are treating."
In December alone, the Carnot mini-lab cultured around 380 blood samples, of which around 12 per cent were found to be positive for bacterial growth, and 18 per cent of this bacteria where found to be resistant to antibiotics.
"So now AMR is everywhere – you open Pandora's box by putting in a lab, and you see there is AMR," Dr Ronat, who has led the mini-lab team since the project was first launched, said. 
He also warned that the burden of AMR is likely to overtake health threats including HIV and malaria in the coming years – but is even more challenging to tackle.
"AMR is such a complex issue," he said. "In these regions, it's due to a lack of hygiene, a lack of infrastructure, a lack of medical policy – the fact you can go in Carnot to a pharmacy and get whatever antibiotics."
On a global scale, Dr Ronat added, the lack of new antibiotics presents a ticking time bomb. According to the World Health Organization, none of the 43 antibiotics currently in clinical development "sufficiently address" rising drug-resistance in the world's most dangerous 13 pathogens. 
The mini-labs project is currently seeking wider investment to expand its remit and coverage with aims to set up in countries including South Sudan, Iraq, Bangladesh and the Democratic Republic of Congo, said Céline Franquesa, project manager of the mini-lab programme.
"If we are able in three years to be able to deploy, let's say 15 mini-labs within MSF, we would be glad because then we would be able to have a real surveillance network," she told The Telegraph. "And we hope to make it accessible outside MSF too, this is part of the work we are doing this year."