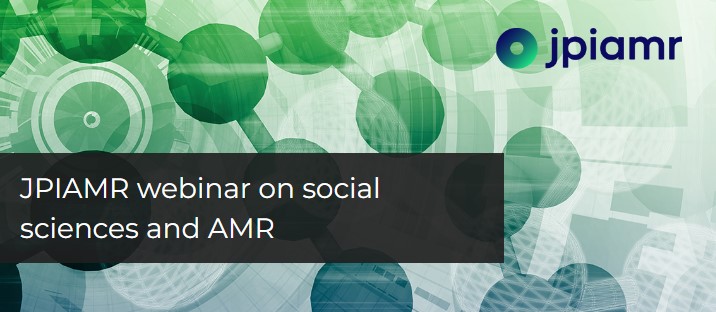 Social sciences as a cross-cutting theme in AMR research and innovation
Live webinar 7 September 2022, 10.00-12.00 CEST
The development of resistance to antibiotics is a biological process, but the context that determines emergence and impact of resistance is underpinned by social aspects. Therefore, it is necessary to identify, understand and evaluate these social aspects to enable the prevention and control of AMR.

Using the One Health approach means it is vital to include social processes across human and animal health and health care, in the food production chain and in environmental protection. Questions to ask are, for example: How do farmers, vets, and regulatory systems manage livestock production? How do regulatory and fiscal frameworks incentivize or deter antimicrobial development, production, availability, and use? How do the public and healthcare professionals understand, value, and use antimicrobials?

There is a need for clearer descriptions of how different social scientific fields – economics, political science, ethics, sociology, anthropology, psychology, and law – could deepen the understanding of the AMR issue, and also the value from particular methods such as interviews or ethnography.

The JPIAMR is in the process of introducing social sciences as a cross-cutting theme in its revised Strategic Research and Innovation Agenda (SRIA). An expert group has been appointed, and a working paper is under development outlining key areas to focus on and quality assessment criteria that may fully capture the range of contributions from quantitative and qualitative methods used by social sciences but specific enough to enable a systematic critique.

In this webinar, moderated by JPIAMR Scientific Advisory Board member Katherine Payne, the members of the expert group will introduce the initiative and give examples of their work in different fields.
JPIAMR is in the process of updating the JPIAMR Strategic Research and Innovation Agenda, contributing to the development of the candidate One Health AMR Partnership. This activity will support to this process by allowing us to collect gaps and needs in the area of of social sciences. The webinar is supported by the "CSA DESIGN OH AMR."
Contact information
For any questions please contact the JPIAMR secretariat, secretariat.jpiamr@vr.se 
Registration
To register for the webinar please fill in the information requested in the form on this page.
Registration will be open until the event starts. The program will be made available mid-August. You will receive the zoom meeting link a few days before the webinar.