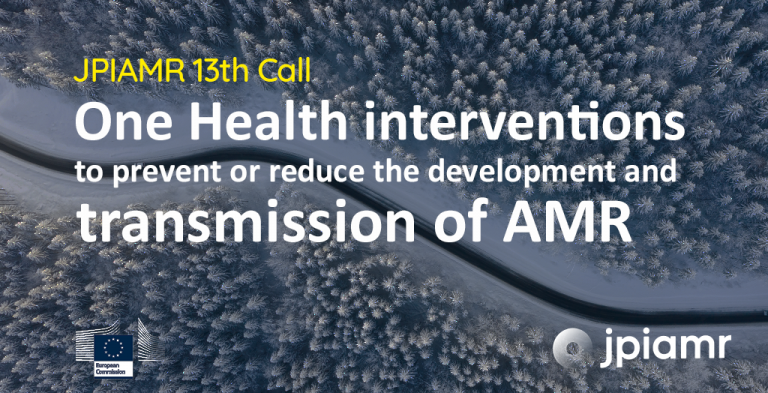 JPI AMR CALL
"ONE HEALTH INTERVENTIONS TO PREVENT OR REDUCE THE DEVELOPMENT AND TRANSMISSION OF AMR"
Open date: 14th January 2021
Submission deadline for pre-proposals: 16th March 2021
Submission deadline for full proposals: 12th July 2021
Budget global: 25 M Euro
JPI AMR lance un nouvel appel à projets sur la thématique de la résistance aux antimicrobiens dans une approche d'Une seule Santé. 30 agences et organisations de 21 pays membres du JPIAMR, dont la France, participent à cet appel. Le budget global approximatif est de 25 M Euros.
An tant que pays membre du JPI AMR, cet appel est soutenu par la France (via l'ANR), ainsi l'AAP est ouvert à toutes les équipes de recherche françaises.
Les propositions doivent inclure au moins deux des trois cadres "Une seule santé", à savoir la santé humaine, la santé animale et l'environnement. La participation des pays à ressources limitées est encouragée.
WEBINAR FOR APPLICANTS:
A live webinar will be held on the 28th of January 2021 presenting the call and the partner search tool provided by the JPI AMR. Representatives from funders participating in the call will be available to answer questions live.
The partner search tool is a match-making tool created for applicants, to facilitate networking and the creation of consortia.
Read more and register to the webinar.
CONTEXT:
With the current focus of the JPIAMR Strategic Research and Innovation Agenda, this call will specifically focus on tackling the rising threat of antibiotic resistance. Addressing the rising threat of antibiotic resistance requires a One Health approach since resistant bacteria, genetic elements and antibiotics are found in humans, animals and the environment. Declining clinical effectiveness of existing antibiotics together with the low and insufficient number of promising new antibiotics in the pipeline stresses the urgency to understand the mechanisms of emergence and transmission of antibiotic resistance. The European One Health Action Plan against AMR encourages the EU and its Member States to deliver innovative, effective and sustainable responses to AMR, especially to reduce the emergence and spread of AMR inside and outside the EU.
Through this call, the ERA-NET JPIAMR-ACTION intends to create and reinforce the collaboration between research partners coming from different countries and different fields of expertise to promote research on antibiotic resistance.
TOPIC OF THE CALL:
Proposals should aim to either:
Understand the impact of interventions on the development and transmission of antibiotic resistance in, and/or between, at least two One Health settings;
OR
Design, implement, evaluate, and/or compare innovative interventions to control the development and transmission of antibiotic resistance in, and/or between, at least two One Health settings.
As stated, research proposals must focus on at least two out of the three "One-Health" settings, being: Human Health, Animal Health, and Environment. Participation of low and middle income countries is encouraged.
ELIGIBILITY:
Consortia should consists of a maximum of six project partners (including non-funded partners). The maximum number of partners can be increased to seven if the consortium includes a partner coming from either low and middle income countries, or from Hungary, Latvia, Lithuania and Poland. The budget of non-funded partners shall not exceed 30% of the total transnational project budget requested. Furthermore, consortia should always consist of a majority of project partners eligible for funding. Funding is granted for a maximum of three years in accordance with national regulations and applicable legal provisions
Please contact the call secretariat if you have any questions about the call: JPI-AMRCalls@agencerecherche.fr
FURTHER INFORMATION IS AVAILABLE ON THE JPI AMR WEBSITE.